Trade uPVC Bi-Fold Doors
Architecturally engineered with high tech materials and technology, our trade uPVC bi-fold doors are made to the highest of specifications. With such an exceptional design on offer, you'll be able to offer your customers a standard of quality that will enable you to stand out. Supplying customers with memorable quality paves the way to satisfaction.
Our precision-engineered Eurocell bi-fold doors are elegant, strong and practical. Choose our stylish supply only uPVC bi-folding doors and offer your customers that 'wow' factor. Excelling in thermal efficiency, security, durability and appearance, these doors are sure to be a worthwhile investment for any project that you are working on.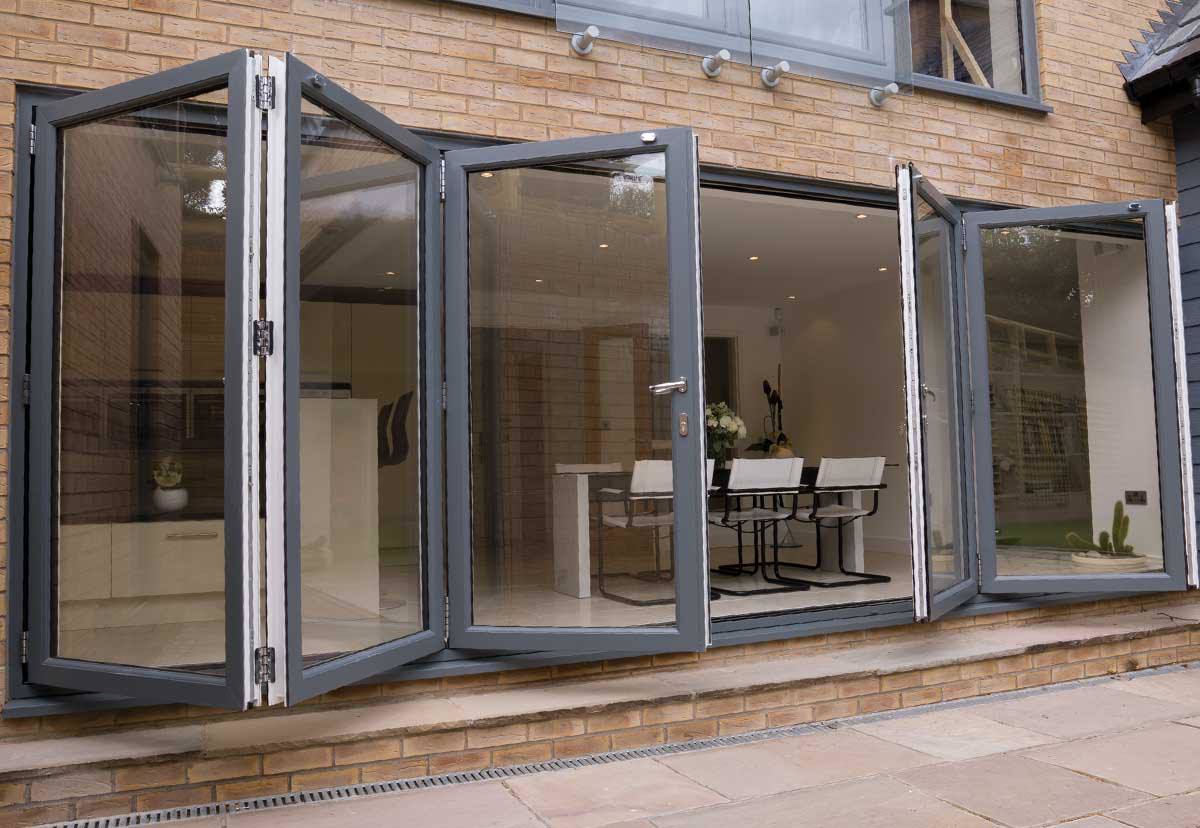 Colour Options
Choose from our range of colour options for supply only bi-fold doors in milton keynes.

White / White Foil

Cream

Chartwell Green

Anthracite Grey

Black

Irish Oak

Golden Oak

Rosewood

Mahogany
Trade uPVC Bi-Fold Doors: Achieving a Warmer Property
Home comfort has proven to be an essential aspect that homeowners consider when investing in new home improvements. Our trade bi-fold doors utilise a market-leading uPVC door design to ensure they uphold an impressive degree of heat retention, allowing them to achieve U-values as low as 0.9.
When this factor is combined with the high performance weather sealants, you'll be able to offer your customers a new addition to their home that doesn't suffer from draughts or water ingress. These features are factored into the quick and easy installation to help you offer outstanding quality, sooner and easier.
Increase Your Customer Reach with Our Trade uPVC Bi-Fold Doors
Impressively customisable, our supply only bi-fold doors can be effortlessly tailored to suit the property style, taste and budget of your customer. We offer bi-fold doors that can be fitted with a total leaf number ranging from 2-7, including a comprehensive selection of folding configurations, which means that you'll be able to accommodate a wide array of aperture sizes.
These doors are also available in a collection of high quality colours, including 'White', 'Cream', 'Golden Oak', 'Rosewood', 'Irish Oak', 'Black Ash', 'White Ash' and 'Grey'. All of the colours we offer are applied with a highly durable coating to ensure they don't fade, peel or discolour over time or when exposed to the weather; Offer style, reduce aftersales with this design.
As these trade uPVC bi-fold doors offer a heightened degree of flexibility, you'll be able to supply leading quality to a larger amount of customers. With no reason to turn business away, adding these doors to your product range means you'll be able to install outstanding home improvements into all manner of property styles, including modern, period, heritage, new build and traditional alike.
Our Trade uPVC Bi-Folding Doors Offer:
Easy functionality and smooth transition with bottom or top rail concertina mechanism
Slim sightlines for greater aesthetics
Available up to six metres wide and with two – six panel doors
Available in a choice of standard colours and woodgrain finishes
A unique knock-in bead system and integral gaskets for easy installation
Quality hardware
A 10 year guarantee against discolouring, warping and cracking.
BBA & Secured By Design Certified
PAS 23 / 24 security accreditation
Offer Your Customers Complete Peace of Mind
Set your company apart with our intelligently designed supply only uPVC bi-fold doors. Thanks to their highly innovative design, these doors achieve a Secured by Design standard. This means that they have been assessed and tested in accordance with an initiative that is backed by the Metropolitan Police.
This means that these trade uPVC bi-fold doors uphold an impressive degree of crime prevention that you can then pass on to your customers. When combined with high security, multi-point locking systems these doors will hold steadfast against even the most determined would-be intruder, offering invaluable peace of mind across the board.
Low Maintenance Trade uPVC Bi-Fold Doors for Reduced Aftersales
Due to the inherent qualities of uPVC, our supply only bi-fold doors will require very little maintenance after they have been installed. With lasting appearance, functionality and design on offer, these doors will help you to reduce your aftersales across the board by installing quality that is set to last.
We understand that the products that you offer will reflect back on you, which is why we ensure we always supply a standard that excels in all areas. Home improvements are often a notable investment for homeowners, which is why we strive to source products that achieve an unrivalled quality that continues to perform.
Trade uPVC Bi-Fold Doors Prices
We pride ourselves on offering market-leading products at highly competitive prices. To get a quote that has been based on your exact specifications, simply visit our online quoting engine and follow the simple step by step process to receive a bespoke price.
Alternatively, you can get in touch with us via our online contact form to speak to a member of our team should you have any questions. We always offer a professional, reliable and efficient customer service to make things as smooth and quick as possible for you throughout.
Contact Us
Get in touch with us today to find out how we can supply you with quality bi-folding doors. Call us on: 01908 921199.